In the wake of the killing of George Floyd and the subsequent protests over police violence and racial injustices that spread in the United States and throughout the world, Bubba Wallace, the only full-time black driver in the NASCAR Cup Series, called for the organization to ban the Confederate flag from all events.
NASCAR did that very thing ahead of Wednesday's race at Martinsville Speedway: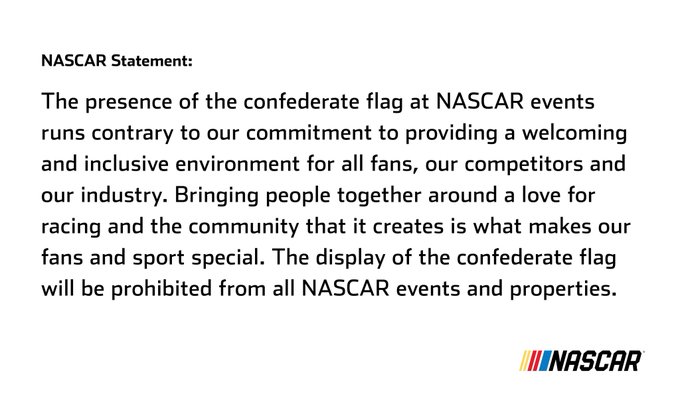 While speaking with CNN this week, Wallace hit out at the notion that anybody should be allowed to fly a Confederate flag at an official NASCAR event, saying:
"No one should feel uncomfortable when they come to a NASCAR race. So it starts with Confederate flags. Get them out of here. They have no place for them.

"There's going to be a lot of angry people that carry those flags proudly but it's time for change."
Wallace, who wore an "I Can't Breathe / Black Lives Matter" shirt on pit road ahead of last Sunday's race at Atlanta Motor Speedway, will drive a car with a #BlackLivesMatter paint scheme at Martinsville on Wednesday evening.
Meanwhile, Bob Pockrass of Fox Sports reported NASCAR drivers, team members and other officials can kneel and peacefully protest during playings of the national anthem: